The 186 intercity pack is now on sale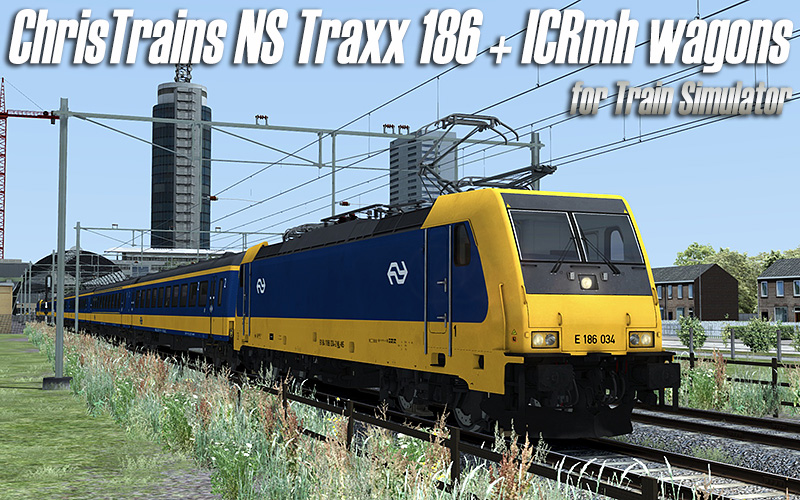 IMPORTANT NOTE ABOUT THE ICRmh PROJECT:
Will the driving wagon (stuurrijtuig) be driveable?
This project is for the CURRENT configuration of these wagons. So for version 1.0, no, there will be no cab. The NS modernised Intercity-highspeed wagons do not use the driving wagon any more. It is always pulled by one or more TRAXX / BR186 engines.
(History: In Autumn 2014, Nedtrain began testing whether or not they could modernise the driver's console in the Bds to allow it to connect to, and control, the TRAXX engines. In April 2015, Nedtrain determined that this was becoming too expensive and would potentially be technically impossible. The rebuild project was cancelled and it was determined that the old Bds would simply act as a passenger wagon on the high speed lines, and would never be used as a driving wagon.)
It is possible that I might make a driving wagon for a later update BUT this would be a bigger project. Why? For the driving wagon to be correct to the period it was used, it would need to be changed to the older Bds wagon. This involves interior and exterior changes to the driving wagon and ALL the wagons to make them the older versions (before 2013).
I have to consider the volume of complaints for this project. The number of people complaining that the driving wagon will not be drivable (which is technically correct for the current Intercity Highspeed lines). Versus the number of people that will complain that it IS driveable but all the coaches are from the wrong time period.