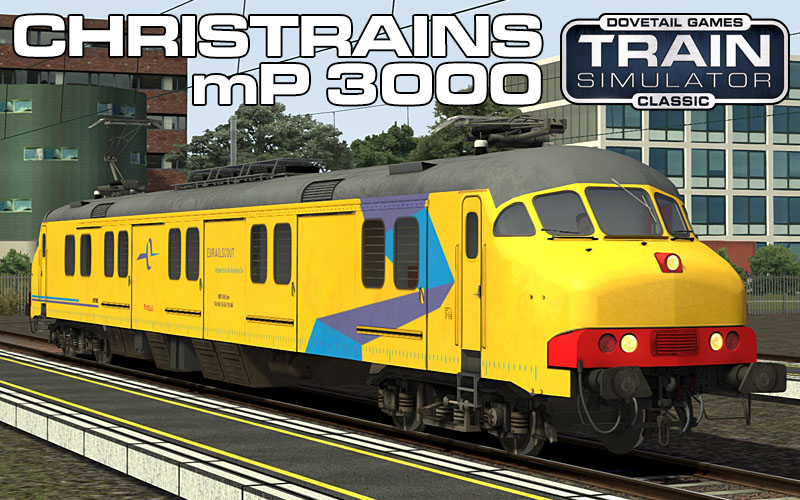 €8.50
Excl. VAT / ohne MwSt / zonder BTW
A reproduction of the NS mP3000 test train that used to be seen all over the Nederlandse Spoorwegen (Dutch national railways) network.
Uses smart scripting for cab lighting, custom controls and other functions.
ATB-EG (train protection system) and Dodeman (train vigilance / deadman system) emulation.
Can be used in your own scenarios.
Comes in three colour schemes. (mP Jules, mP Jim, Railion)
Check out the free PTT paint pack for this train, to add the Motorpost trains to your collection
Basic user's manual supplied as a PDF file. (The manual is available in Start->All Programs->ChrisTrains)
Free updates for life (see this note about product update emails)
Enjoy it - let me know what you like and what you don't and tell me if you find something that needs fixing and I'll try to sort it out.
Minimum requirements
Train Simulator 2015, 2016, 2017 or 2018 (upgrade from previous versions is free on Steam)
'Expert' control mode. Turn off simple controls.
Recommended: Dynamic lighting ON
Product(s) will not work in Train Simulator 2012, 2013, 2014.
⇓ Buy from partner stores ⇓
Gallery
History
In the 60's, special mail trains were developed for the PTT (the Dutch postal service) to replace the old 'Blokkendoos' wagons. The series was called mP3000 and was derived from the Mat'64 passenger train. They were built between 1965 and 1966 by Werkspoor. In contrast to the Mat'64 that had Scharfenberg couplings, the mP3000 had traditional screw couplings and buffers, allowing it to connect to the specially-built post wagons and other freight wagons.
In 1992 the mP3032 was converted to an ATB test train and received the name 'mP Jules'. Later, the test company was split off from the NS and the test train became property of Eurailscout.
In 1995 the NS took over some more of the old motorpost trains from the PTT. These ones were used for light freight and cargo duty. From May 1997 there was no longer any mail transported by rail. At this point the last of the motorpost trains were sold to NS Cargo, now Railion. These were also pressed into light freight service.
Four of the motorpost trains (the mP 3024, mP 3029, mP 3033 and mP 3034) were converted to test trains for ETCS/ERTMS. Once they finished their duties there, they were sent to Railion and ProRail, and finally to Eurailscout. One of these was eventually converted to another test train, the 'mP Jim'.
Series
mP3000
Traction
Electric
Power
488Kw (654hp)
Axle formation
Bo-Bo
Length of loco
26.4 m
Maximum speed
140 km/h
Weight
52 ton
Number built
35
Built by
Werkspoor
Years in service
1965-2008