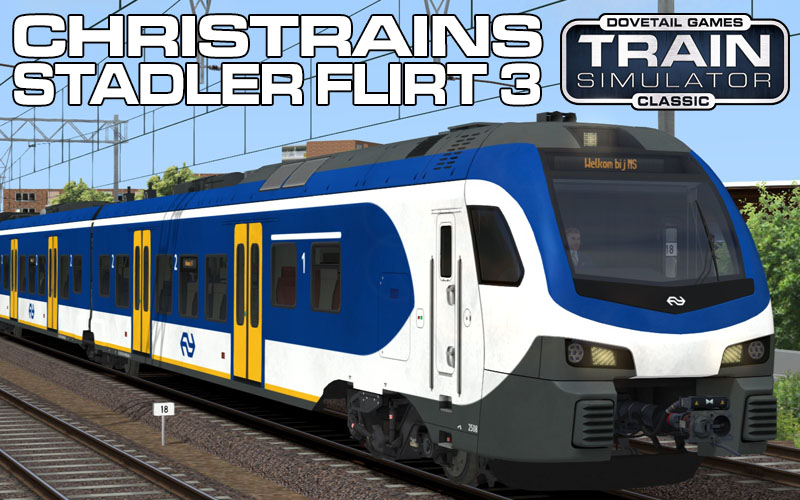 €15.00
Excl. VAT / ohne MwSt / zonder BTW
A reproduction of the Stadler Flirt 3 passenger train that can be seen all over Europe.
Electric multiple unit.
4 versions, 5 consists: NS 2200 series (3 wagons), NS 2500 series (4 wagons), Rnet (2 wagons), Arriva (2 wagons) and DB Regio Süwex (5 wagons).
ATB-EG (train protection system) emulation in the NS/Rnet versions.
ATB-NG (train protection system) emulation in the Arriva version.
PZB90 (train protection system) emulation in the German DB Regio Süwex version.
Detailed cabview.
Second class passenger view with working passenger information display (destination).
Uses smart scripting for cab lighting, custom controls, destination boards and more.
Dynamic autonumbering
Can be used in your own scenarios, and is available in QuickDrive.
Scenarios will become available on my scenarios page as I complete them.
English User's manual supplied as a PDF file.(The manual is available in Start->All Programs->ChrisTrains)
Free updates for life (see this note about product update emails)
Enjoy it. I try to be responsive to people's requests so if you think something isn't quite right, send me a bug report.
Minimum requirements
Train Simulator 2015, 2016, 2017 or 2018 (upgrade from previous versions is free on Steam)
'Expert' control mode. Turn off simple controls.
Recommended: Dynamic lighting ON
Product(s) will not work in Train Simulator 2012, 2013, 2014.
⇓ Buy from partner stores ⇓
Video preview
Quick help
Gallery
Information
The NS Flirt is an electric multiple unit built for the Nederlandse Spoorwegen by the Swiss train manufacturer Stadler, based on their popular Flirt 3 platform. To start with the trains are being introduced to deal with the rise in passenger numbers on the main lines.
The Flirt (acronyn for Flinker Leichter Innovativer Regionaltriebzug) is typified by a light and airy interior. This is possible due to the use of jacobs bogies combined with wide, open carriage joins and a low floor. The low floor in combination with extendable steps makes this train much easier for people with physical disabilities. The combination of low weight and high traction power makes this train ideal for services with many stops and short waiting times. For the NS, the Flirt 3 will be employed as Sprinters.
Traction
Electric
Power
1500kW - 3000kW
Axle Formation
Bo-2-Bo / Bo-2-2-Bo2 / Bo-2-2-2-Bo / Bo-2-2-2-2-Bo
Length
42.2m - 101.7m
Maximum speed
140 km/h - 160km/h
Weight
90 ton - 153 ton
Number built
Hundreds
Built by
Stadler Rail
Years entered service
2016-