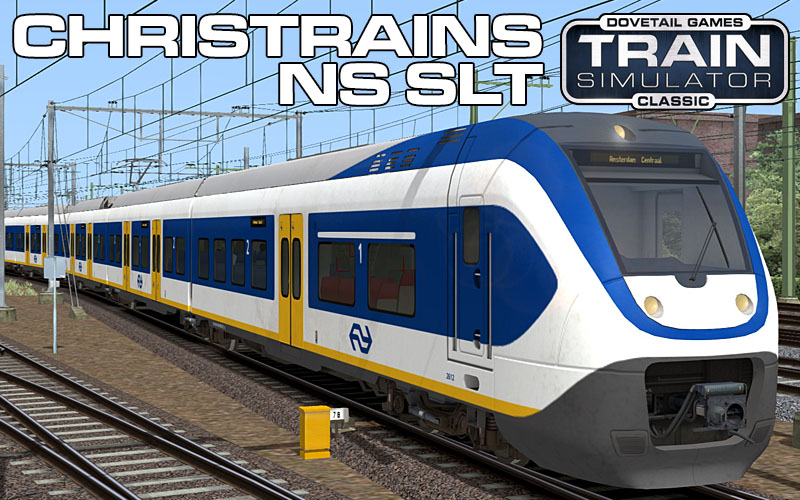 €11.50
Excl. VAT / ohne MwSt / zonder BTW
A reproduction of the SLT Sprinter electric passenger train that can be seen all over the Nederlandse Spoorwegen (Dutch national railways) network.
SLT-4 and SLT-6 versions.
Detailed cabview.
ATB-EG (train protection system) emulation.
Second class passenger view with working passenger information display (destination, speed, train number, outside temperature).
Uses smart scripting for cab lighting, custom controls, destination boards and more.
Dynamic autonumbering
Can be used in your own scenarios, and is available in QuickDrive.
Scenarios will become available on my scenarios page as I complete them.
English User's manual supplied as a PDF file.(The manual is available in Start->All Programs->ChrisTrains)
Free updates for life (see this note about product update emails)
Enjoy it. I try to be responsive to people's requests so if you think something isn't quite right, send me a bug report.
Minimum requirements
Train Simulator 2015, 2016, 2017 or 2018 (upgrade from previous versions is free on Steam)
'Expert' control mode. Turn off simple controls.
Recommended: Dynamic lighting ON
Product(s) will not work in Train Simulator 2012, 2013, 2014.
⇓ Buy from partner stores ⇓
Video preview
Gallery
History
The Sprinter Lighttrain (SLT) is an electric multiple unit (EMU) used on Sprinter-services by the Nederlandse Spoorwegen. The units were designed to help phase out the use of 60's and 70's rolling stock such as the older Mat '64.
There are four- and six-car consists, that because of their shorter carriage lengths are similar in overall length to the older three- and four-car trains.
The SLT 'working' designation is S70 (four-car, 69,36 m long) and S100 (six-car, 100,54 m long). The first trains began running tests in the Netherlands in 2008 and were put into service in 2009.
Through the use of Jacobs bogies, the inter-carriage joins are short and wide. A signature feature of the SLT is the large amount of 'airiness' in the carriages. This is possible because of the large windows, and that there are no separating walls or doors between the carriages. The only walls are glass ones, used to separate 1st and 2nd class seating areas.
SLT-4
SLT-6
Traction
Electric
Power
1260kW
1680kW
Axle Formation
Bo-Bo-2-2-Bo
Bo-Bo-2-2-2-Bo-Bo
Length
69.36m
100.54m
Maximum speed
160 km/h
Weight
129 ton
176 ton
Number built
69
62
Built by
Bombardier / Siemens
Years entered service
2009-