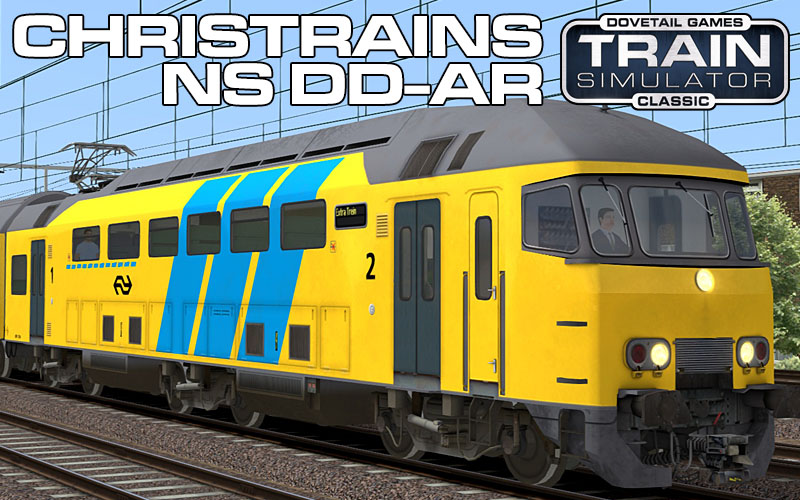 €11.50
Excl. VAT / ohne MwSt / zonder BTW
A reproduction of the DD-AR double-decker electric passenger train that can be seen all over the Nederlandse Spoorwegen (Dutch national railways) network.
Classic NS colours with and without advertising banners.
Working engine and driving trailer (mABk and Bvk units).
Detailed cabview (a hybrid between the mABk and Bvk cabs which are almost identical).
First and second class passenger wagons (ABv and Bv units).
First class passenger view (ABv unit).
Uses smart scripting for cab lighting, custom controls, cruise control, footplates, destination boards and more.
ATB-EG (train protection system) and Dodeman (train vigilance / deadman system) emulation.
Cruise control
Dynamic autonumbering
Comes with two scenarios (London-Paddington/Great Western mainline, Hagen-Siegen/Ruhr Sieg line). Please see this important note about scenarios and routes in Train Simulator 2013
Can be used in your own scenarios, and is available in QuickDrive.
English User's manual supplied as a PDF file. Please read it as there are many unique controls for this model.(The manual is available in Start->All Programs->ChrisTrains)
Free updates for life (see this note about product update emails)
Enjoy it. I try to be responsive to people's requests so if you think something isn't quite right, send me a bug report.
Minimum requirements
Train Simulator 2015, 2016, 2017 or 2018 (upgrade from previous versions is free on Steam)
'Expert' control mode. Turn off simple controls.
Recommended: Dynamic lighting ON
Product(s) will not work in Train Simulator 2012, 2013, 2014.
⇓ Buy from partner stores ⇓
Gallery
History
DD-AR : Doubledecker Aglo-regio Materieel (Stop-train Doubledeckers)
The DD-AR coach sets had a passenger motorcoach at one end of the train and an NS1700 loco at the other end. The newer mDDM trainsets have an mDDM motorcoach at one end and a passenger motorcoach at the other. The mDDM motorcoach was developed by NS Materieel engineering and built for NS Reizigers. Per motorcoach, there are three double-axle bogies. For the NS and most other railways in Europe, this is unique. This layout was necessary to be able to put down enough power to the rails whilst maintaining passenger space above. In total there are six asynchronous current motors available, each with a power rating of 400kW. Train braking can be entirely electro-dynamic, in principle, thus feeding power back into the system under braking. The space for electrical installation and power on the lower deck is very compacy. Because of this, the upper deck was able to be fitted out with proper seating arrangements and compartment doors, unlike other double-deck arrangements.
Because of a slightly lowered passenger floor, the position of the windows compared to the seats is more 'normal' on the upper deck. This means that regular sliding windows can be used for the ventilation - the windows don't have the recognisable bend in them that the other doubledeck units have. The floor between the passenger deck and the engine room is heavily insulated against both heat and noise.
The shape of the nose of the mDDM is basically the same as the DD-AR units. The mDDM is a push-pull unit and has lowered automatic couplers.
Series
390 7701 - 77??
Traction
Electric
Power
2400kW (3218hp)
Axle formation
Bo-Bo-Bo
Wheel diameter
920mm
mDDM length
21.39m
Maximum speed
140 km/h
mDDM Weight
76 ton
mDDM Number built
50
Built by
Talbot Aken / Holec
Years entered service
1991-1996