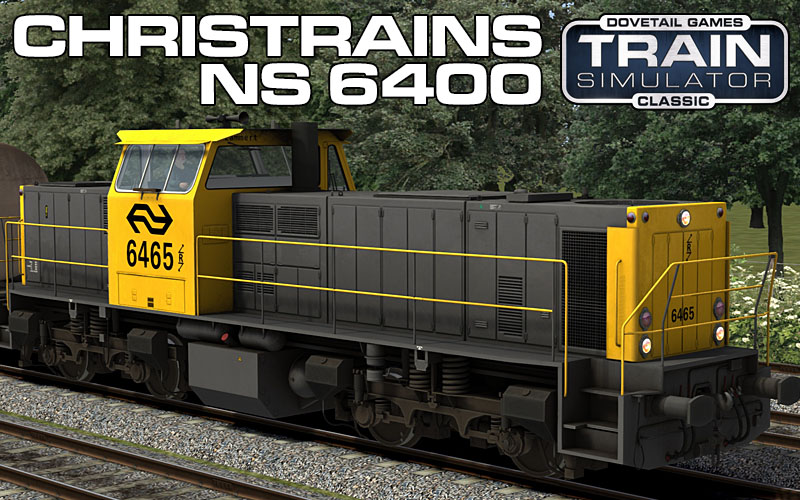 €9.50
Excl. VAT / ohne MwSt / zonder BTW
A reproduction of the Class 6400 locomotive that can still be seen on Nederlandse Spoorwegen (Dutch national railways) network.
Comes in nine colour schemes.
An additional 5 'look-alike' skins for ACTS, Husa and Strukton. The 'look-alike' colour schemes are technically for a MaK 1206 locomotive. There are some big differences between the 6400 and the MaK 1206, but they look similar enough that these skins are a good substitute for a full custom 1206 locomotive.
Cab with two working driver positions (front and rear).
Independent wiper controls for front and rear.
Flashing yard lights.
Parking / hand brake.
Uses smart scripting for cab lighting, custom controls and other functions.
Dynamic autonumbering with names (each of the 6400 locomotives had a name as well as a number)
Can be used in your own scenarios.
Basic user's manual supplied as a PDF file. (The manual is available in Start->All Programs->ChrisTrains)
Free updates for life (see this note about product update emails)
Enjoy it - let me know what you like and what you don't and tell me if you find something that needs fixing and I'll try to sort it out.
Minimum requirements
Train Simulator 2015, 2016, 2017 or 2018 (upgrade from previous versions is free on Steam)
'Expert' control mode. Turn off simple controls.
Recommended: Dynamic lighting ON
Product(s) will not work in Train Simulator 2012, 2013, 2014.
⇓ Buy from partner stores ⇓
Gallery
History
The NS 6400 is one of the MaK DE 6400 series of diesel-electric locomotives built by Maschinenbau Kiel (MaK), (later Vossloh) for the Nederlandse Spoorwegen (NS), for freight work. After the NS was split up in 1995, all the 6400's were transferred to NS Cargo (now: DB Schenker Rail). These engines are known in Germany as the "Baureihe 264". The engine is based on one of MaK's standard locomotive types - the DE 1002. They are longer than the stock type though because more room was needed for the ATB system and a helper diesel motor that can keep a parked locomotive fully charged as well as keeping the cooling water for the primary engine at working temperature. There is also more room needed for the bogies which are longer on the 6400 due to the use of tread brakes instead of disc brakes. The longer form factor means that the cab is also roomier in this type.
Series
NS6400/6500
Traction
Diesel-electric
Power
1180Kw (1580hp)
Axle formation
Bo-Bo
Length of loco
14.4 m
Maximum speed
120 km/h
Weight
80 ton
Number built
120
Built by
Mak / Vossloh
Years in service
1988-1995