Discount Codes
Want to start or grow your collection by more than one product? Use these coupon codes for bulk discounts:
GIMME2 = 10% off two products
GIMME3 = 15% off three products
GIMME4 = 20% off four or more products
Mailing list
Subscribe to the mailing list for occasional updates and important announcements.
Traxx 186 + ICRmh wagons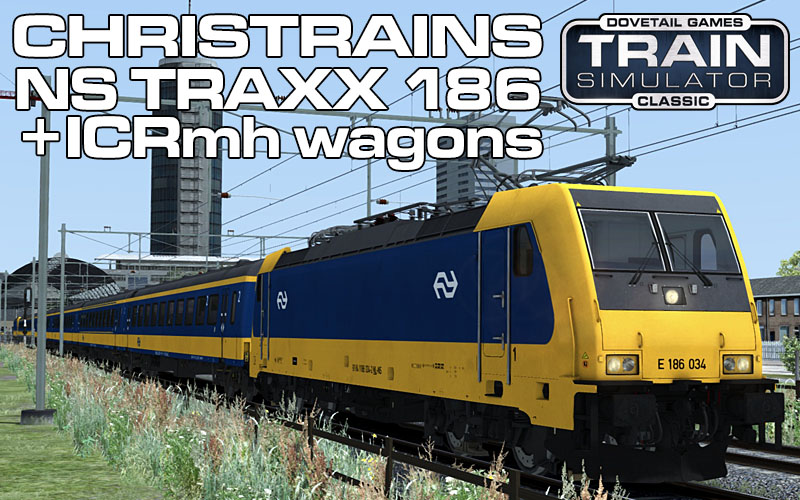 €19.00
Excl. VAT / ohne MwSt / zonder BTW
A reproduction of the Bombardier F140MS2 Traxx 186 with ICRmh Intercity passenger wagons that can be seen all over the Netherlands.
Engine and wagons.
3 versions of the engine - NS, NS Lease (grey), NMBS (Belgium)
6 passenger wagons in IC-Direct, IC-Brussels and Intercity versions - Apmz10, Bpmz10, Bpmez10, Bpmdz9, Bpmdez8, Bpmbdzf7
9 consists : IC Direct (16100, 16200, 16400), IC Den Haag-Eindhoven (16500), IC Brussels (16200-B, 16200-NL, 16400-B, 16400-NL), NS Lease
ATB-EG (train protection system) emulation.
ETCS (the train protection component of the European Railway Traffic Management System ERTMS) emulation with shunting (SH), staff responsible (SR), full supervision (FS) and override modes.
Player-selectable voltages (supported countries: NL 1.5kV, NL 25kV, B 3kV, B 25kV, A 15kV, D 15kV
AFB emulation (similar to an advanced cruise control system)
Detailed cabview with a variation for the NMBS version.
Second class passenger view.
Dynamic autonumbering
Comes with ETCS track balise objects that can be used in scenarios to force the safety system to change modes (eg from ATB to ETCS)
Can be used in your own scenarios, and is available in QuickDrive.
English User's manual supplied as a PDF file.(The manual is available in Start->All Programs->ChrisTrains)
Free updates for life (see this note about product update emails)
Minimum requirements
Windows® 10 (32/64bit)
Train Simulator 2021 or 2022 (upgrade from previous versions is free on Steam)
'Expert' control mode. Turn off simple controls.
Recommended: Dynamic lighting ON
Video: recommended game settings
Product(s) will not work in Train Simulator 2012-2019.
⇓ Buy from partner stores ⇓
Video preview
Quick help
Gallery