Discount Codes
Want to start or grow your collection by more than one product? Use these coupon codes for bulk discounts:
GIMME2 = 10% off two products
GIMME3 = 15% off three products
GIMME4 = 20% off four or more products
Mailing list
Subscribe to the mailing list for occasional updates and important announcements.
NS DM90 'Buffel'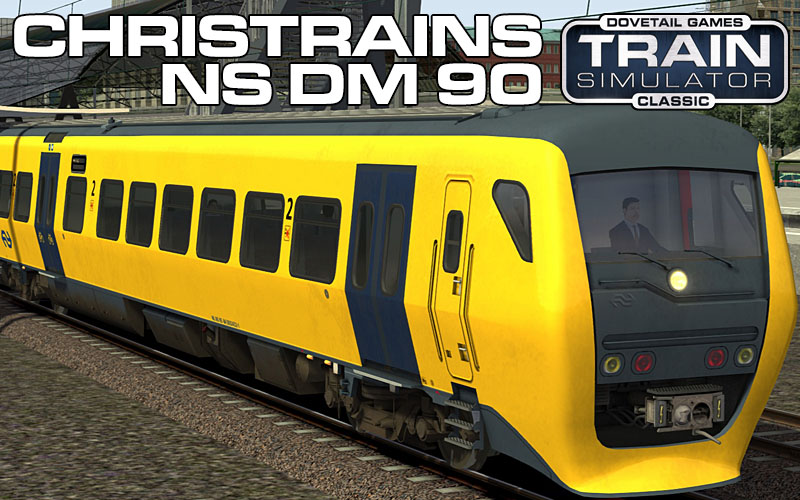 €11.50
Excl. VAT / ohne MwSt / zonder BTW
A reproduction of the DM90 'Buffel' diesel passenger train that operates/operated on the non-electrified lines of the Nederlandse Spoorwegen (Dutch national railways) network.
Versions for NS, RegioNS, Syntus, Veolia, Zwolle-Kampen and Grensland Express.
Detailed cabview.
ATB-NG (train protection system) emulation.
Second class passenger view in the unique standing-room area.
Uses smart scripting for cab lighting, custom controls, destination boards and more.
Dynamic autonumbering
Comes with a tutorial / training scenario set in the TS Academy.
Can be used in your own scenarios, and is available in QuickDrive.
Scenarios will become available on my scenarios page as I complete them.
English User's manual supplied as a PDF file.(The manual is available in Start->All Programs->ChrisTrains)
Free updates for life (see this note about product update emails)
Minimum requirements
Windows® 10 (32/64bit)
Train Simulator 2020 or 2021 (upgrade from previous versions is free on Steam)
'Expert' control mode. Turn off simple controls.
Recommended: Dynamic lighting ON
Video: recommended game settings
Product(s) will not work in Train Simulator 2012-2018.
⇓ Buy from partner stores ⇓
Video preview
Quick help
Gallery