Discount Codes
Want to start or grow your collection by more than one product? Use these coupon codes for bulk discounts:
GIMME2 = 10% off two products
GIMME3 = 15% off three products
GIMME4 = 20% off four or more products
Mailing list
Subscribe to the mailing list for occasional updates and important announcements.
NS 6400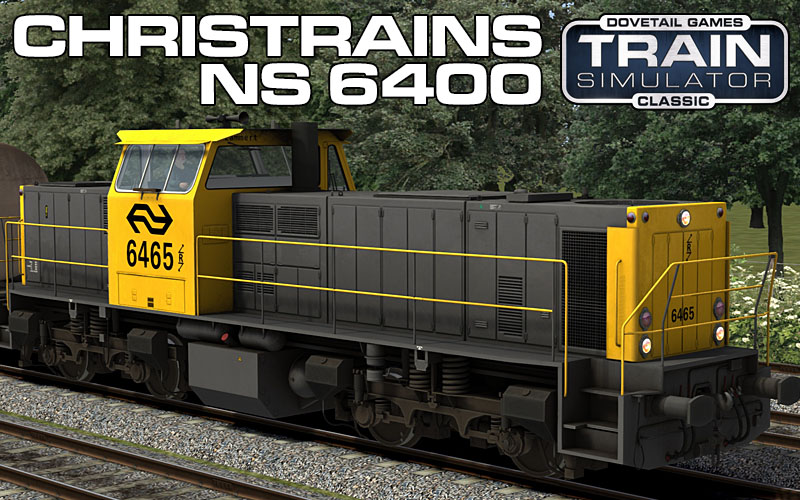 €10.99
Excl. VAT / ohne MwSt / zonder BTW
A reproduction of the Class 6400 locomotive that can still be seen on Nederlandse Spoorwegen (Dutch national railways) network.
Comes in nine colour schemes.
An additional 6 'look-alike' skins for ACTS, Husa, Independent Rail Partner, and Strukton. The 'look-alike' colour schemes are technically for a MaK 1206 locomotive. There are some big differences between the 6400 and the MaK 1206, but they look similar enough that these skins are a good substitute for a full custom 1206 locomotive.
Cab with two working driver positions (front and rear).
Independent wiper controls for front and rear.
Flashing yard lights.
Parking / hand brake.
Uses smart scripting for cab lighting, custom controls and other functions.
Dynamic autonumbering with names (each of the 6400 locomotives had a name as well as a number)
Can be used in your own scenarios.
Basic user's manual supplied as a PDF file. (The manual is available in Start->All Programs->ChrisTrains)
Free updates for life (see this note about product update emails)
Minimum requirements
Windows® 10 (32/64bit)
Train Simulator 2021 or 2022 (upgrade from previous versions is free on Steam)
'Expert' control mode. Turn off simple controls.
Recommended: Dynamic lighting ON
Video: recommended game settings
Product(s) will not work in Train Simulator 2012-2019.
⇓ Buy from partner stores ⇓
Video preview
Quick help
Gallery