Discount Codes
Want to start or grow your collection by more than one product? Use these coupon codes for bulk discounts:
GIMME2 = 10% off two products
GIMME3 = 15% off three products
GIMME4 = 20% off four or more products
Mailing list
Subscribe to the mailing list for occasional updates and important announcements.
NS ICM Paint Pack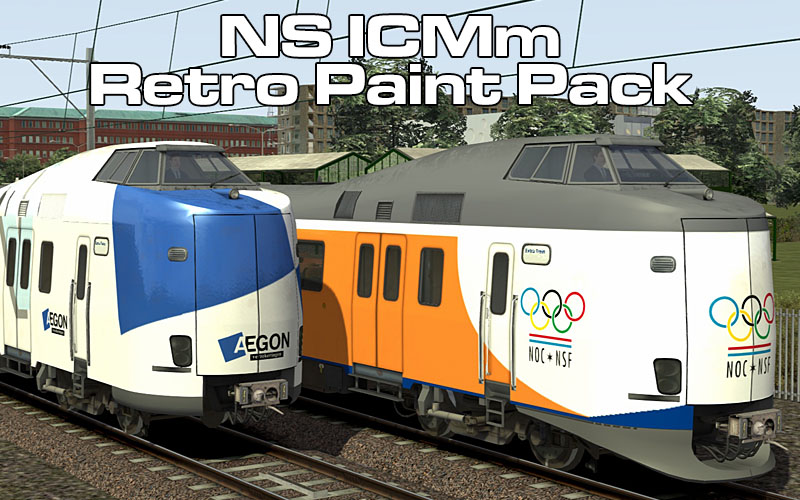 €3.00
Excl. VAT / ohne MwSt / zonder BTW
Do you miss the 80's and 90's? Are you nostalgic for the days when a Koploper was always delayed because of the broken nose door mechanism (the 'doorloopkop')? Then you'll enjoy the ICM Retro Paint Pack. This is a collection of eight reskins and model changes providing older ICM trains, to complement the modernised ICMm model. This pack features:
New animating nose doors.
Martinair livery.
KLM livery.
Aegon insurance livery.
Lage Landen livery.
Older NS yellow & blue livery.
Older NS yellow & blue livery with revised spoiler.
Olympic livery.
Olympic livery with sporters.
A remodelled passenger view, back to the old brown and red version.
Note: all logos are the property of, and trademarked by the respective owners.
Minimum requirements
Train Simulator 2016, 2017, 2018 or 2019 (upgrade from previous versions is free on Steam)
'Expert' control mode. Turn off simple controls.
Recommended: Dynamic lighting ON
Product(s) will not work in Train Simulator 2012, 2013, 2014.
⇓ Buy from partner stores ⇓
Quick help
Gallery